The Loss of a Lumber Industry Legend
Theodore Hector Hansen
October 28, 1935 – March 27, 2021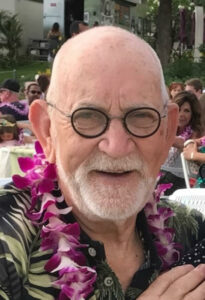 It is with great sadness we announce the passing of Theodore (Ted) Hector Hansen on March 27, 2021.
At the time of his passing, Ted was surrounded by his loving wife of 64 years, Nadeane, and his four sons, Robb, Dean, Mark, and Matt.
Ted is predeceased by his parents, Blanche and Howard, and his daughter Julie. He is survived by Nadeane, his sons Robb (Betty-Sue), Dean (Jacquie), Mark (Margaret), and Matt (Juliet), his beloved 10 grandchildren Matthew (Kristen), Thomas (Becky), Mitchell (Steph), Theodore (Ally), Chloe, Jack, Neil, Kevin, Jake (Rebecca), and Kathryn, his four great grandchildren, Callie, Johnathan, Sophie, and Emma, and many extended family.
Ted was born in Kamloops, B.C. on October 28, 1935, and raised on the family farm in Little Fort, B.C. He rode a horse to elementary school in Little Fort, and eventually graduated from high school in Kamloops, B.C. He went on to graduate from the University of British Columbia with a Physical Education degree in 1957, the same year he married Nadeane.
Ted was an exceptional athlete growing up, excelling in many sports, in particular softball, in which he continued to enjoy playing into his 80's at our annual Easter family reunions in Little Fort. After a brief time teaching following his graduation from UBC, as well as time in the Canadian Air Force, Ted was recruited into the wholesale lumber industry.
Ted thrived as a salesman in lumber, with his outgoing personality, incredible sense of humour, and reputation as a man of his word. Ted's career in lumber resulted in multiple moves for his young family through the 1960's and early 1970's, including time in Prince George, B.C., Portland, Oregon, and Tacoma, Washington, before finally settling in Vancouver, B.C. in 1972 as the founding President of Olympic Industries.
After retiring from the lumber industry, Ted and Nadeane moved to Whistler, B.C. in 1995 where Ted embarked on a second career in real estate with ReMax, although his true objective was to volunteer as a mountain host with Blackcomb Mountain, which he did for 20 years. Ted was an avid golfer his entire life. It was a love/hate relationship, with every round ending with immediate discussion about where and when to play next. After golf, there might have been a game of crib, or a Canucks game with a tall Guinness.
When Ted wasn't skiing or golfing, you could find him fly fishing at Taweel Lake. "The Lake" was, and has remained, a second home to the entire family for multiple generations. Ted's early years at Taweel were spent as a fish boy at the camp, driving the Jeep road, and embarking on the lifelong pursuit of the legendary "Walter", said to be lurking the depths of Taweel Lake. Ted's true love was for his family. It was the overriding purpose of his life and the focus of every decision he ever made.
His love and commitment to family has been passed along to following generations, and his devotion as a loving husband, father, and grandfather will be his true legacy for eternity. He will be forever loved and remembered in the hearts of his family and friends. The family gives special thanks for the care and compassion Ted received over the past five months from the staff at Berkley Care Centre in North Vancouver, B.C. A celebration of his life will be planned when family members and friends are able to attend. Condolences may be expressed at the family's on line obituary at: www.mem.com